Need a reminder on these cold and snowy winter days of what potential your garden next year can have?!
Check out what the 2014 EAGC Residential and Commercial Award Winners did with their gardens!
Congratulations to the EAGC 2014 Residential Garden Award winner Lydia Herlihy of Stratham!!  Although currently covered with snow, when in season, Lydia's amazing backyard invites you through pathways of low, well-manicured and terraced boxwood hedges.  She concentrates on perennials and has a fine display of hosta and grasses.  Beautiful flowering trees, such as the burgundy wigelia near the bird house and white dogwood, enhance your view upward while unique garden art pieces poke out throughout the greenery.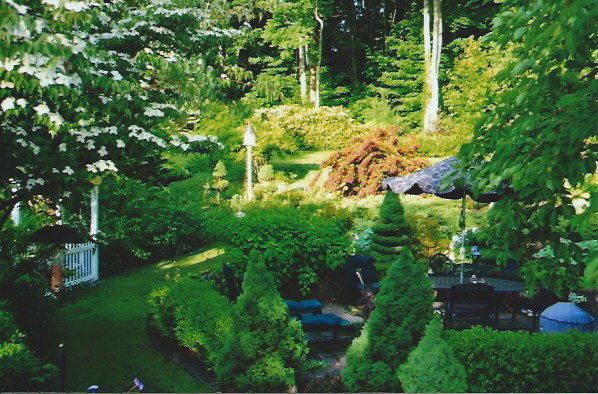 It is a garden of many smaller gardens, each with a unique display of its own, from sunny veggie and herb spaces, to shady spaces with seating, to topiaries and flowers.  The photos cannot do this incredible garden justice.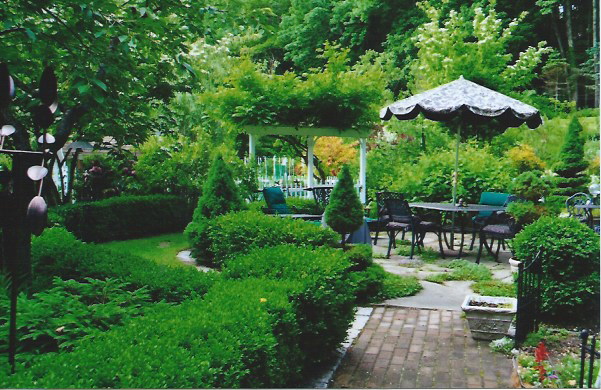 Lydia slowly transformed the space a little each year, from one geared around a children's play area, to one of beauty and relaxation.  The pool area has become a patio, the fire pit into the herb garden and a basketball court into a vegetable garden.  The children's former playhouse is now a small garden tool shed.  The most amazing part is that Lydia has created this whole space by herself, with the exception of digging some of the deeper holes for which she credits her husbands efforts.  We thank her for allowing us to view her special space and are thrilled to have presented her with the EAGC award.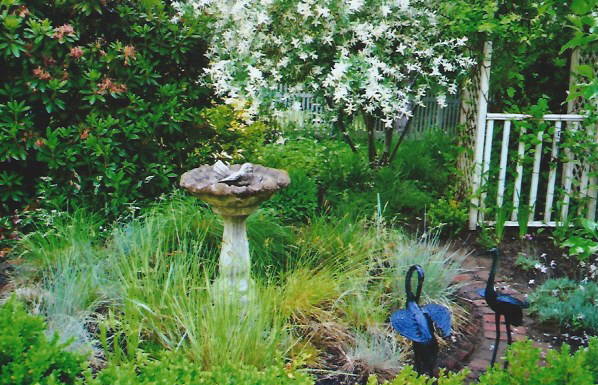 Congratulations to the EAGC 2014 Commercial Garden Award winner TRENDS, on Water Street in Exeter.  Kathy Lemerise is the owner of Trends and since she moved to this new location, her husband Keith has been the gardening force behind her beautiful window boxes.  Kathy credits Keith with creating this years' stunning boxes that contained pansies and johnny jump-ups for spring color and then tropical colors and textures of sweet potato vine, coleus and succulents that brought the designs well into the fall.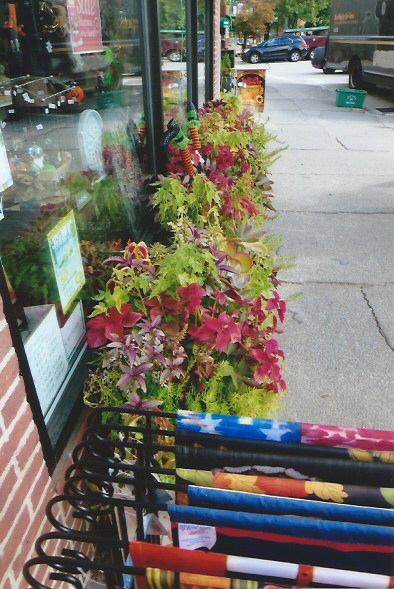 Although they needed to cover the boxes with sheets on the coldest of fall nights, the plants lasted until Thanksgiving and were then given a festive touch of pine and spruce boughs for the remaining winter months.
At home, Kathy says that Keith got the gardening bug at home after they were married.  He has collected 40 varieties of hosta, built a coy pond, added Japanese maples and more.
We thank Kathy and Keith for their efforts to beautify downtown Exeter with their garden design and are thrilled to present TRENDS with the EAGC award.  We are also looking forward to seeing what they will do next year!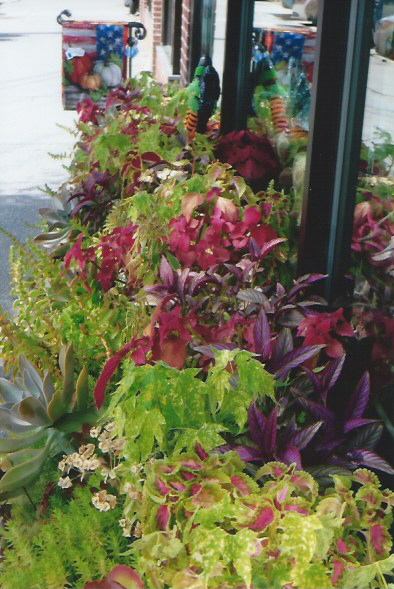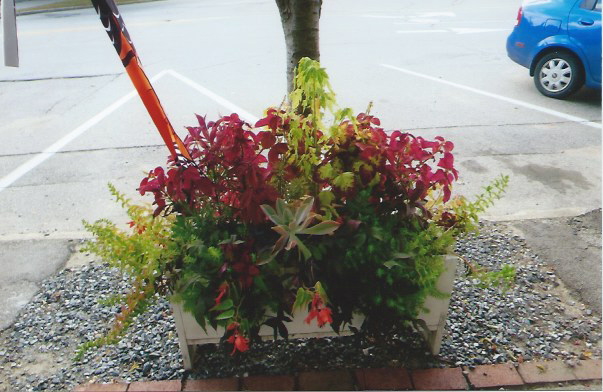 Each year the EAGC Award Committee seeks out extraordinary gardens in our communities, with one award going to a residential garden and one award going to a business garden.  Texture, color and all-season blooming are all taken into account.