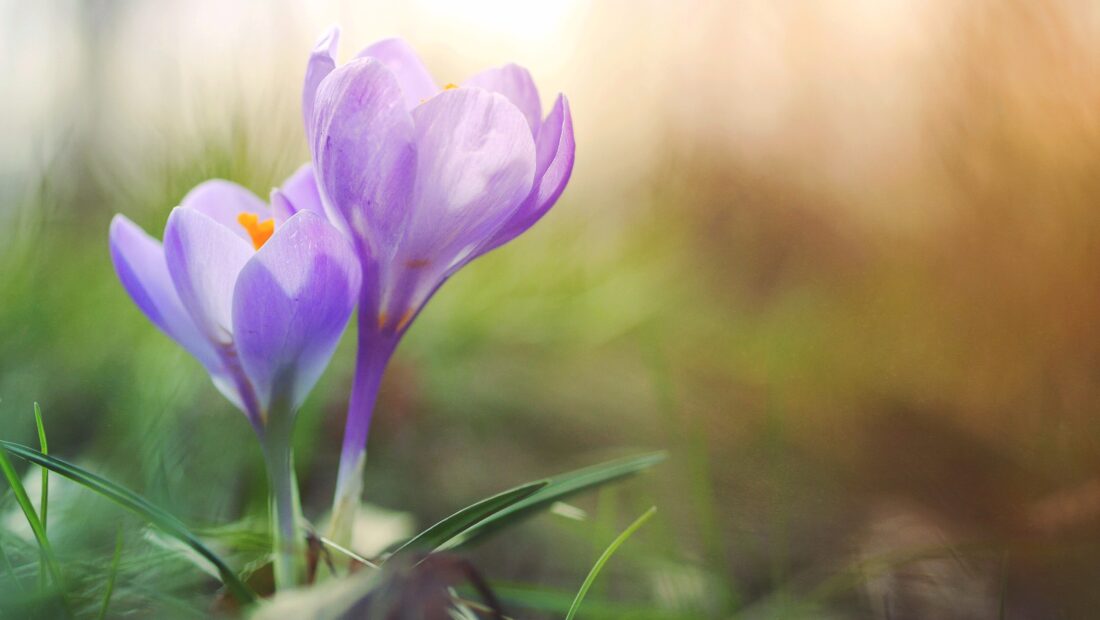 Fat, wet snowflakes are falling as I type this — not anyone's idea of perfect April weather, I suspect. But we certainly need the moisture and my snow shovel is still at the ready in case it's needed one more time. Snowflakes aside, spring fever has definitely infected our gardening community. Many of us have been outdoors digging in the dirt, checking for winter survivors, and planning for new plant additions to our gardens. The club has been busy too, mostly virtually. But in-person activities are in the planning stages. Here's what's happening…
Paula F. has put together an informative article about the Eastern Hemlock, as part of Environment and Conservation's year of evergreen trees. You can find this by clicking here. And you'll find comprehensive info on many other native NH trees on the website in the drop-down menu under "Garden Talk".
Promise Tree chair, Johann S. has worked long and hard on our Savers FunDrive and has reported that over 1000 lbs. of goods were delivered to Savers on April 13, resulting in a $203.81 deposit to our treasury and lots of happy members who were able to clear out their closets and basements. Our donations were delivered by Rose G., Lee & Doug C., and Johann and LuAnn F.
Our Three Sisters Seed Library is rapidly growing in popularity and seeds. Patti E. just shared this message with the club.
The Exeter Area Garden Club is so excited to share that we have received a wonderful donation of seeds to the Seed Library from Stout Oak Farm in Brentwood. Some of the new seed varieties include snap and snow peas, pickling cucumbers, Vates kale, Who Gets Kissed sweet corn, Yukina Savoy (mild mustard greens), orange chard, Lolla Rossa lettuce, High Mowing Blend Mesclun, giant Italian parsley, Gemstone Greens parsley, Fordhook Giant chard, and more!
In addition to these, Rolling Green Nursery has also donated additional seeds including marigolds, gaillardia, cockscomb, purple basil, lovage, fennel, tomatoes, lettuces, microgreens and more!
The Exeter Area Garden Club cannot thank these businesses enough for helping the Three Sisters Seed Library continue to provide seeds to anyone wanting them. These donations allow the Seed Library to offer free seeds to you until you can grow some of these great varieties and return your own saved seeds back to the library at the end of the growing season.
All area residents are invited to stop by to visit and join the Seed Library at the Exeter Public Library!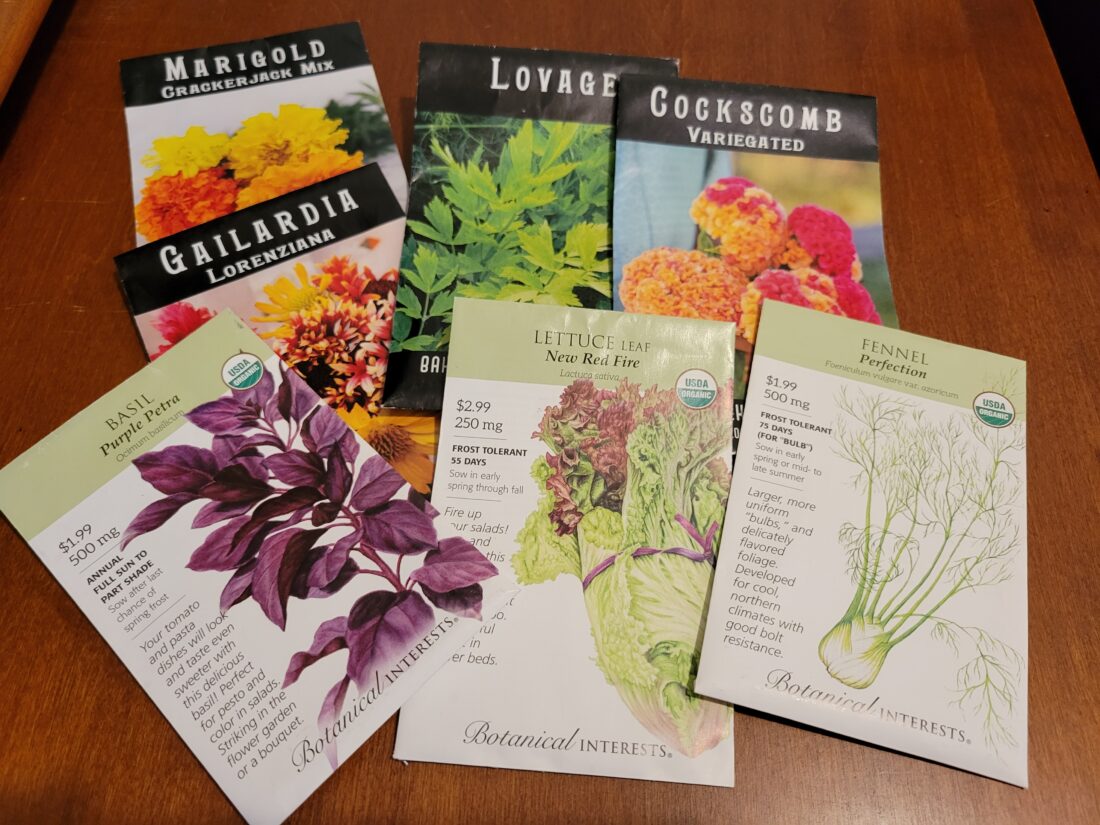 After you've picked up your seeds at the Seed Library, you may need some expert advice about warm weather seed starting. Patti has comprehensive instructions on how to take those seeds from seed-hood to full-fledged plants, ready for moving to your garden bed. You can download her seed starting instructions here.
Exciting News — Our May general meeting will NOT be held via Zoom! Plans are in the works for a hands-on Flower Arranging Party, to be held on May 20 at the Stratham Hill Park Pavilion. The Programs and Design committees are working jointly to organize this meeting. Plan to bring your own vase or container and some pre-soaked oasis. Flowers will be provided. Watch your email or check the website calendar for updates. Masks will be required due to the nature of the program.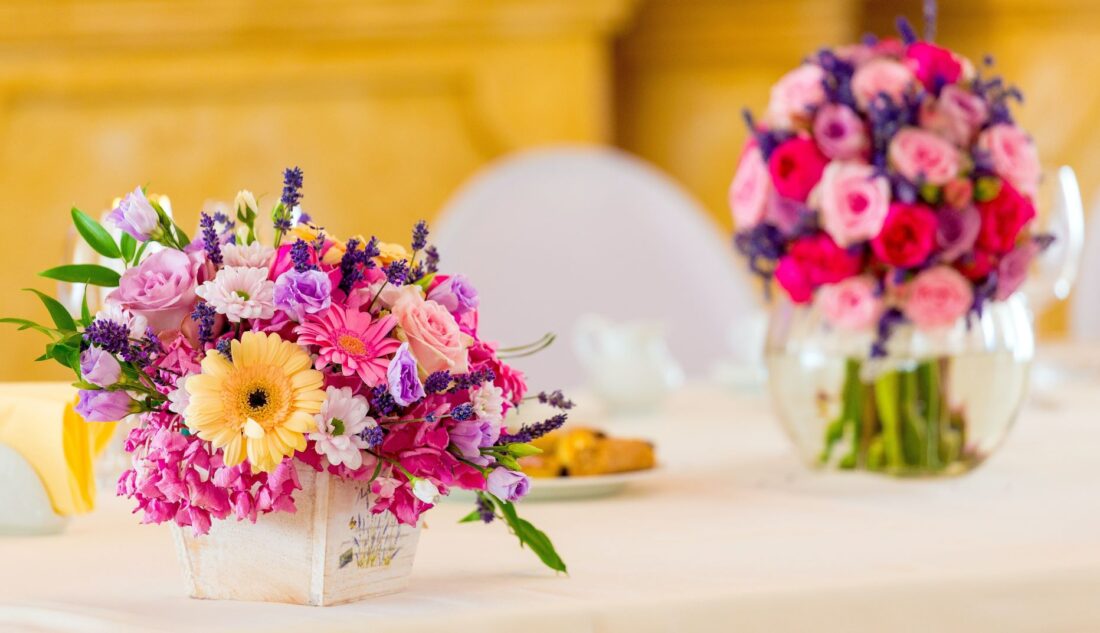 The Hospitality committee is currently collecting checks for our June Luncheon and Plant Auction. Don't forget to send yours in to reserve your place at the luncheon. Checks for $30 made out to Exeter Area Garden Club, should be sent to Jill C. to arrive by April 23rd. Be sure to indicate your meal choice on your check. Questions? Contact Jill.
Wellington Gardens in Brentwood will be holding their yearly Perennial Sale on Saturday, April 24, until sold out. The sale hours are 7am – 5pm. All 4″ Perennials are $2.00 each. Their Annuals Sale will be Saturday, May 1, until sold out. Sale Hours: 7am – 6pm. Assorted Annual 6 Packs are $2.00 each.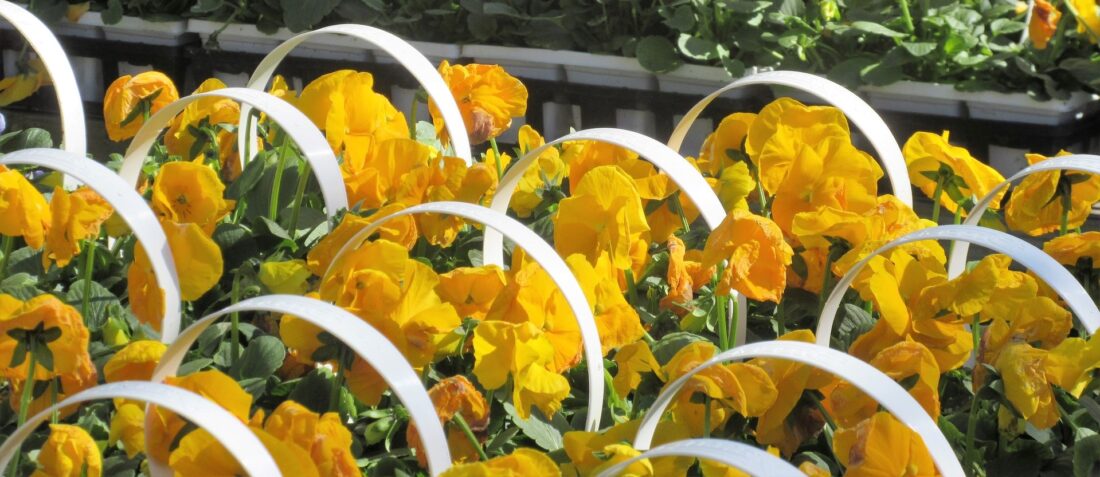 Shovel Your Garden Safely: 8 Tips. Gardening can be hard work. Here's a short video that will provide you with tips you can use when working around the garden. Margaret Martin, from Melio Guide says, "Each spring there is a plant to move or one to add. Be sure you keep yourself safe. Gardening should bring you joy and not pain or grief." Click here: Safe Shoveling
Yearning for some summer garden visits? Here are a few in Massachussetts: