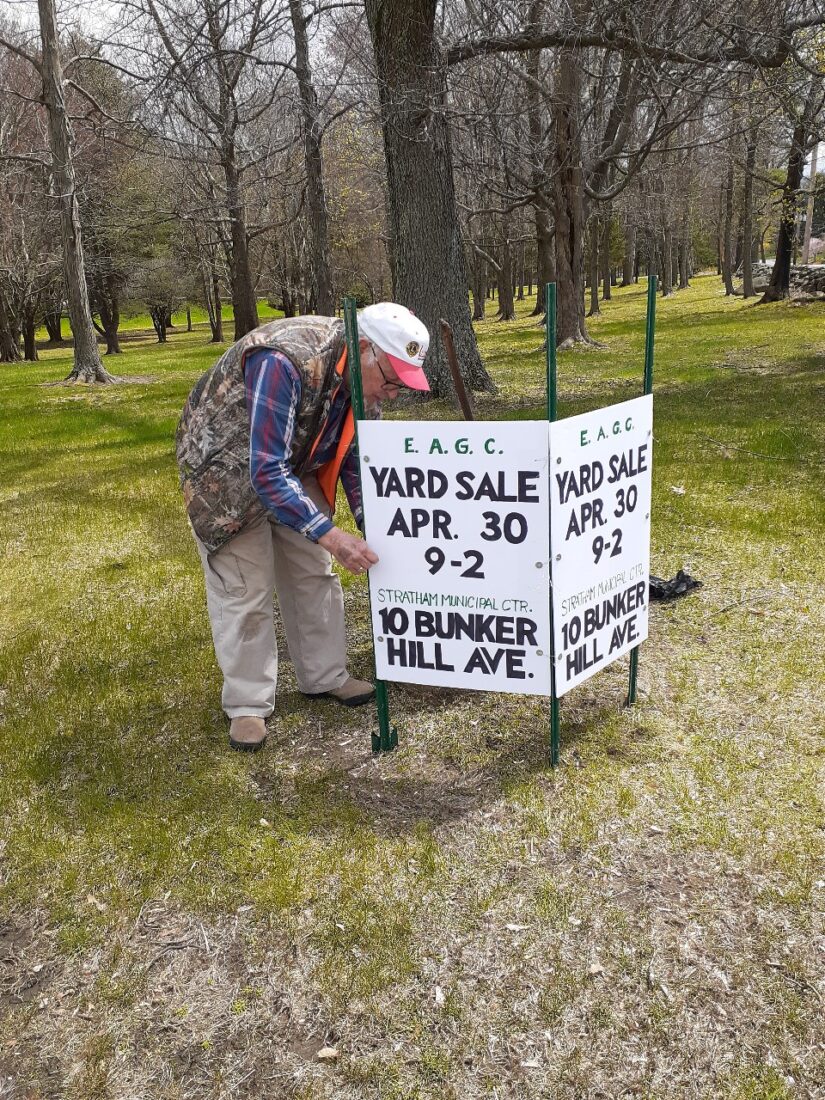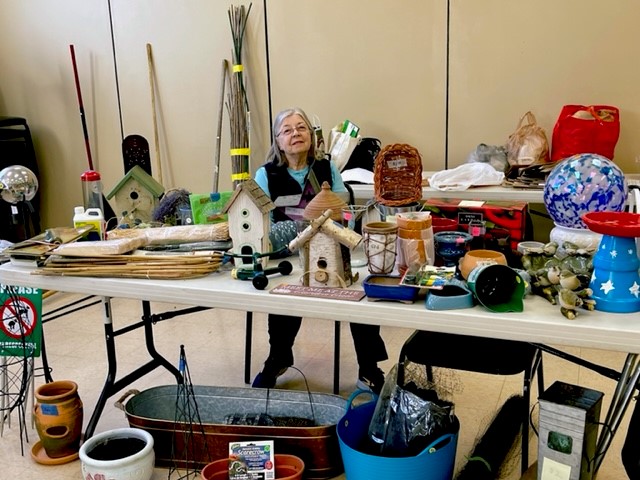 EAGC's big news is the success of our April 30 Yard Sale. Despite a short window for organization and advertising, Johann and her team of volunteers added $1082.91 to our treasury. That includes $210 for table rental, with the rest coming from the sale of our members' famous baked goods and their donated garden items. Thanks to Johann and all our members who donated baked goods, sale items, and time!
Renovation of Exeter's American Independence Museum gardens was begun on May 6. This is a new project for EAGC and an important improvement for the museum's summer season. A small crew of our gardeners was joined by hard-working and strong volunteers from Liberty Mutual Insurance, and a lot was accomplished in four hours. Every plant was removed from the existing beds at the front of the museum, the soil was amended, new plants installed, and a layer of mulch spread. The change was impressive.
Our own member Karen W., a landscape architect, designed a plan and chose the plants, while Keith Whitehouse, owner of Yeti Landscaping, donated time, tools, and labor. Most of the shrubs are planted, with perennials to be added later. Be sure to stop by the museum to see the results of this transformation. It's at 1 Govenor's Lane in downtown Exeter.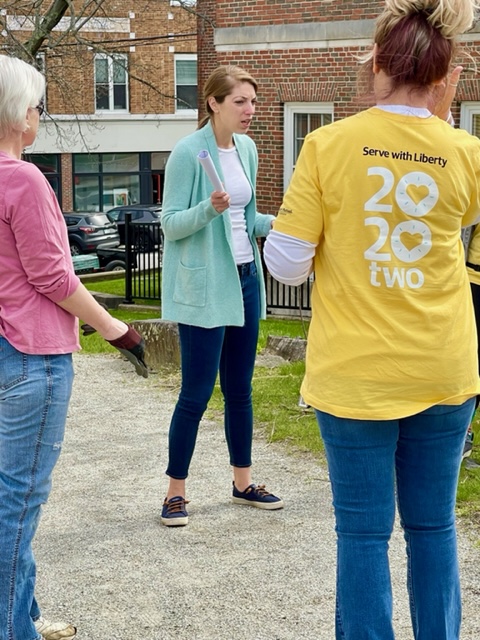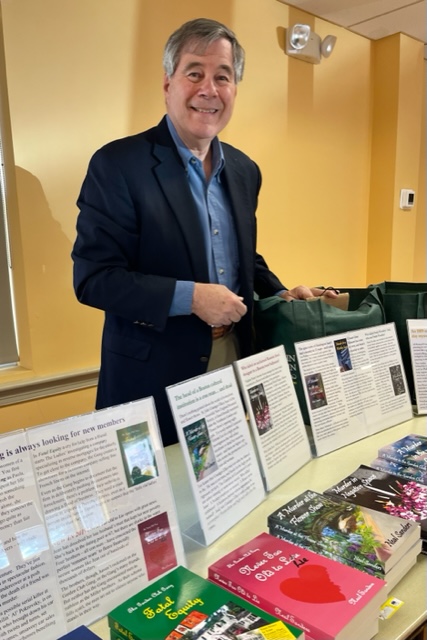 Our April general meeting featured speaker Neil Sanders who bills himself as author and gardener, but should also add stand-up comedian to that resume. Attendees found themselves chuckling non-stop as he related his experiences as his wife's designated hole-digger/gardening assistant. Neil also brought a supply of the mystery books he writes when not digging holes.
Our hospitality was table was tempting, as usual, and a number of interesting items were contributed to the sales table.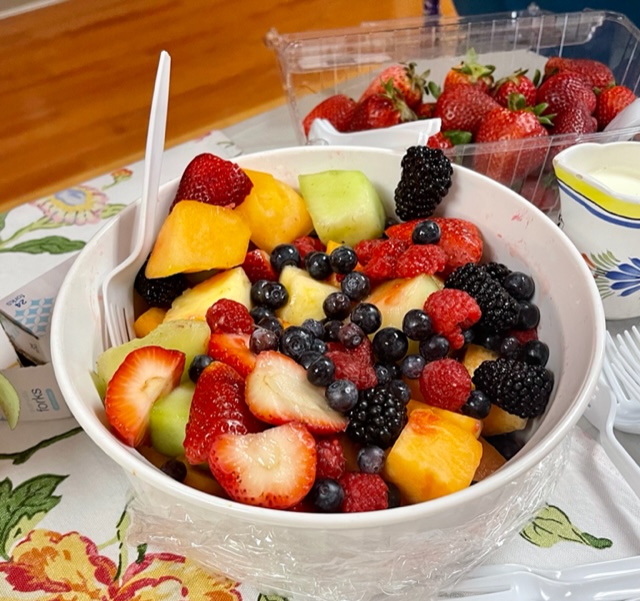 Our May general meeting, on May 19, will be a special one – we'll be enjoying a presentation on "Spring Herbs" by members of our own Horticulture committee. It's safe to say that the discussion will include some tastings, possibly even some recipes. We'll also be voting on the budget for next year and on our slate of officers for 2022-23. They are: Pat N, President; Vicki B., Vice President; Lee C., Recording Secretary; Ginny T., Treasurer; and LuAnn, Communications Coordinator.
Two of our Designing Women, Ann H. and Lee C. are participating in the Art in Bloom program at the Ogunquit Museum, which will be held Friday June 24th through Sunday, June 26th. Ann and Lee are in the process of choosing an artwork at the museum which Lee will use as inspiration for an arrangement to be displayed with the art. The arrangement will be dedicated to the memory of Connie G. For more info about the program, go to Art in Bloom.
Members who are planning to attend the June 15 Spring Luncheon and Plant Auction have hopefully signed up by now. (If you haven't, contact Jill C.) Each year we send out a link to Becky M.'s wonderful instructions for potting up the best-looking and healthiest plants for the auction. You can find them here. UNH Extension also has information on sharing plants, including info on Jumping Worms. Find the article here. Details about the luncheon and auction will be sent out soon.
Local Gardening Events
The Hampton Historical Society will present a talk about "New England's Native Flowers and Trade – from the 1600's – the Present" Wednesday, May 18 at 7 PM at the Tuck Museum in Hampton. Info here.
The Portsmouth Garden Club will present their annual Literature in Bloom program at NOON on May 18 at the Urban Forestry Center. Arrangements will then be on display at Portsmouth Public Library until May 20. Free and open to the public.
John Forti will speak on "The Heirloom Gardener – Traditional Plants and Skills for the Modern World" on Tuesday, May 24, at 6 PM at the Exeter Library.
The Great Island Garden Club is having their annual Plant Sale – rain or shine – on Saturday, May 21, 12 – 3 PM, at the New Castle Recreation Center, 301 Wentworth Rd., New Castle, NH 03854. In addition to plants, gently used garden tools will be included.
The Rye Beach-Little Boar's Head Garden Club is hosting John Forti discussing Heirloom Gardens at their June meeting and would like to extend an invitation to any members of the Exeter Area Garden Club to attend. The meeting is June 14 at 1:30 pm at the North Hampton Public Library.