Kelly Orzell, author of The Backyard Gardener, was our featured speaker at the April general meeting. She talked about container gardening, which is of particular interest to many members, and shared a number of inspiring and gorgeous floral designs – some in very unlikely containers. As usual, our meeting was full of various activities, sign-ups, and garden information.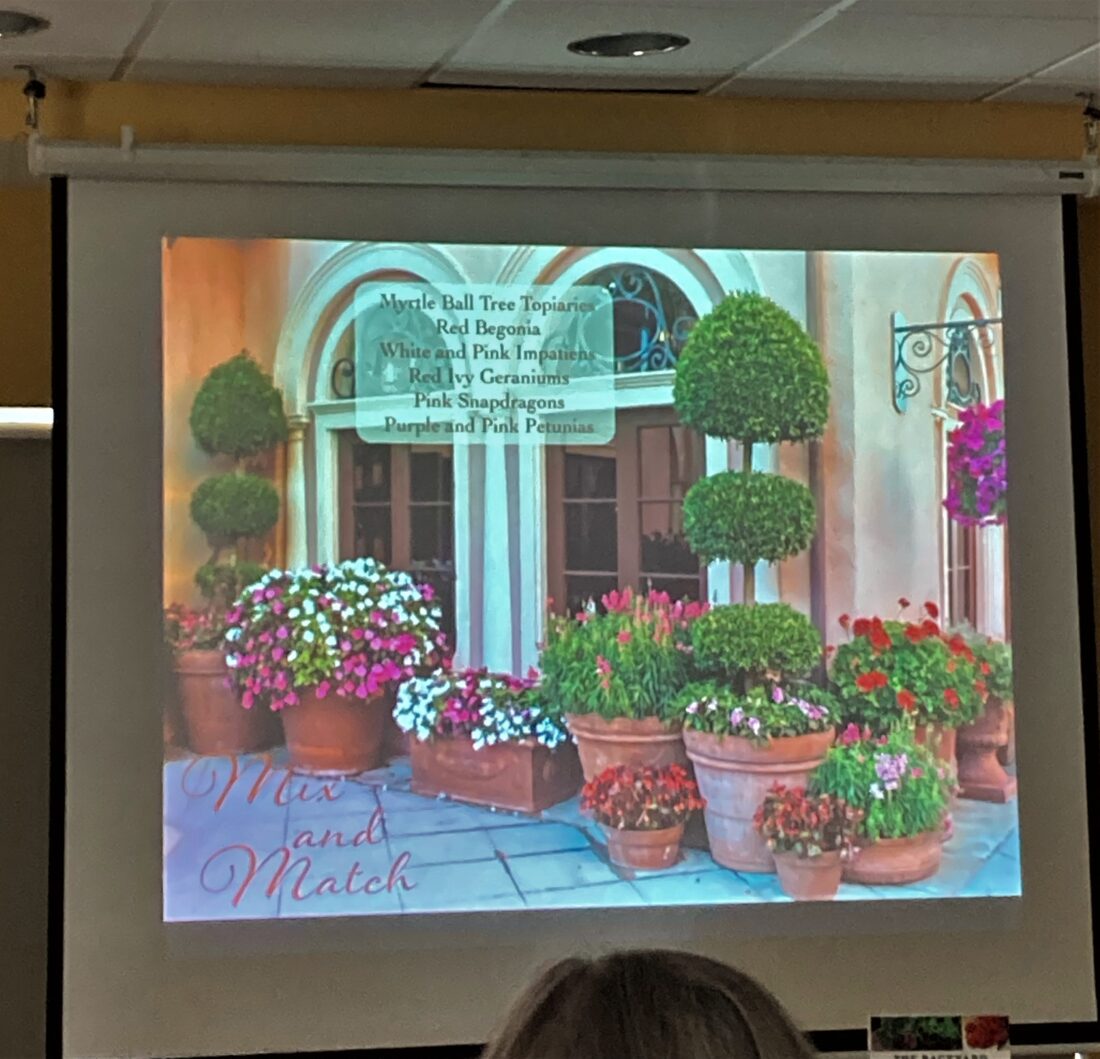 Kelly Orzell container designs
Linda V. and Betsy V. discussed the Environment & Conservation Beautification Mini Grants which were awarded this spring. Ten grants, totalling almost $2000 will be used by Stratham and Exeter residents to plant pollinator gardens on their properties, with the hope that a Pollinator Corridor can be created in these two towns. The funds have been disbursed and the gardens are in process. In the fall, E&C will tour the resulting gardens and present the club with photos of the results.
In addition to mini grant gardens, E&C member Jill C. presented members with a "bug challenge." Each member was given a container and asked to capture one indoor insect from their homes, which will be evaluated at the May meeting. It's unknown if there will be prizes – biggest bug, most legs, most disgusting? – but the results should be interesting. If you missed the April meeting and would like to participate, bring your entry in a sealed container. It's suggested that you freeze it so that it doesn't disintegrate before the big reveal.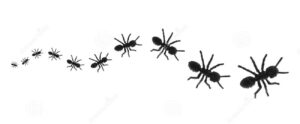 Wednesday, June 14, is our club's big Spring celebration – our fabulous Annual Spring Luncheon and Plant Auction. Luncheon preparations are almost complete, thanks to Paige C. and her creative committee. The deadline for sign-up and payment are fast approaching. Do not miss this fun event! Details about the luncheon can be found here.
Johann S. reminds us that, with nicer weather here and the plant auction approaching, members should pot up their plants with coffee filters in the bottom of the pots, label them, and include any special care information. Becky Mitchell's very helpful potting suggestions can be found here.
EAGC was asked to participate in the YMCA's April 29th Healthy Kids' Day, the Y's national initiative to improve the health and well-being of kids and families. Several of our members spent a few hours helping kids pot up veggies and flowers, hopefully encouraging them to become the gardeners of the future.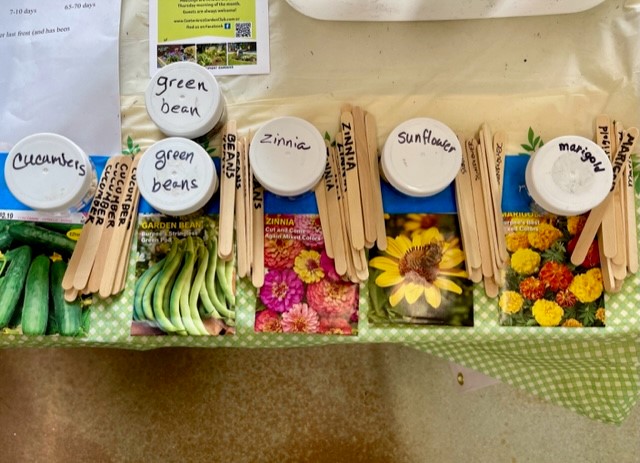 The upcoming May general meeting is a special one – some of our own members will be interpreting their favorite books with floral arrangements. "Books Make Me Bloom" has been organized by our Design committee, chaired by Ann H. and Patti S., and shines a light on the talents of our members annually at this time of year. May is also the month that we will be voting on our budget for the 2023-24 fiscal year. If you haven't already looked it over, you can find the budget on the website here.
May is the month to sign up for a week to help with our community service projects. Although our club no longer maintains the Exeter Bandstand, we certainly have a hand in helping to beautify some prominent local spots. The Veterans Memorial Garden in Stratham has some unfilled weeks this summer. Pulling weeds in such a beautiful & peaceful garden is never a chore. Contact Dianna T. if you'd like to take a week.
In Exeter, our club is maintaining the beds in front of the American Independence Museum. We've made impressive improvements in the past year and now need more volunteers to stop in a few times a week to pull a few weeds and enjoy the beauty. Linda S. will be happy to find a week for you.
And back in Stratham, we're maintaining pots at the entrance to the Municipal Center. Contact Linda S. to help out with this project. Sign up sheets will also be available at the May meeting.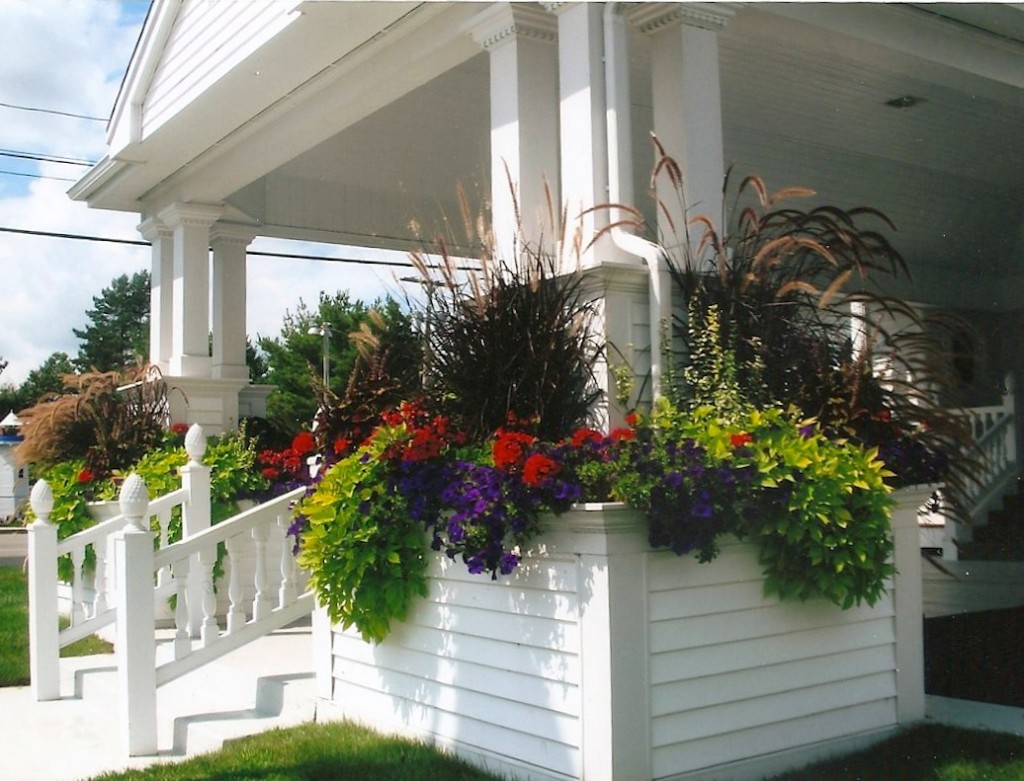 Our Awards Committee is still on the lookout for special gardens, residential and commercial, to be considered for our Outstanding Garden Awards, which are presented in the fall. Some gardens have been recommended, but more suggestions are welcome. The committee will be touring gardens as soon as they mature, so contact Carmen G. if you've noticed a garden that really stands out as special.
So many spring garden opportunities! Here are a some of them:
Peggy Moore, an award-winning floral designer, who has entered designs in WAFA (World Association of Floral Artists) meetings numerous times, will share backstories of competing in international floral design circles including some of the mishaps and challenges. Thursday, May 18, at 10:30 AM at the First Parish Church Hall, 180 York Street, York, Maine. This is sponsored by the Piscataqua Garden Club. There is a non-member charge of $5.00 at the door.
The Hampton Garden Club is hosting a Plant, Bake, & Shed Sale on Saturday, May 20, 9 AM til noon, at the Centre School, 53 Winnacunnet, in Hampton. For more info, click here.
The Great Island Garden Club (New Castle, NH) has invited us to a once-in-400-year event that celebrates the upcoming 400th anniversary of the settling of New Castle, NH in 1623. "The Secret Gardens of New Castle" is a self-guided walking tour of some of the most beautiful home gardens in the town's Historic District. Friday, June 16, 5 to 7:30 PM and Saturday, June 17, 10 AM to 3 PM (rain or shine). Tickets are now available at

www.portsmouthnhtickets.com

. $20 advance, $25 day of. More details can be found at www.greatislandgardenclub.org.
And finally, Lynda B. has gifted us once again with her Exeter photos – Spring in Exeter: