An exciting new project for the club
The board has approved a new venture for our club – restoring the garden beds of the American Independence Museum in Exeter. The museum's director contacted our club for help with their garden beds after recent foundation work uprooted the plants that had been in place. After members met at the museum to assess the work needed, the board decided that designing new beds and advising on plant selections would be a good fit for our members' expertise. In fact, new member Karen W. has already done a basic drawing, with ideas for the plantings.
It's important to note that our work with the museum will not include installation or maintenance. Part of what made this project appealing to the board is that the museum works with a landscaping company, which will handle the heavy lifting. If you're interested in more info or in joining the committee, contact Linda S.
Here are a few photos of the project and the committee who met to assess it.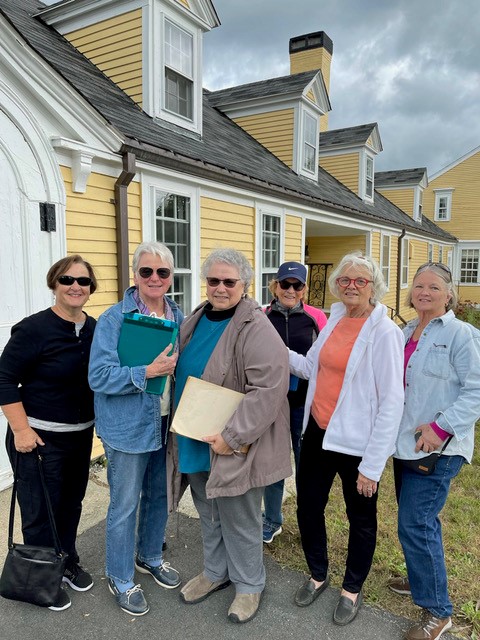 Ann H. Photos
This month's General Meeting, on Thursday, October 21, will feature a speaker that any gardener who's spent a day pulling weeds or moving plants will really appreciate. Jeanne Davidson, DPT, OCS, will present "Body Mechanics for Gardeners: Learn How to Keep Your Back Safe". Come learn proper and safe ways to bend, lift, push, pull, and turn as you perform common garden tasks. This interactive presentation combines lecture and demonstration with audience participation using props and common garden tools. Handouts will be given for home reference.
Jeanne has practiced Physical Therapy for over forty years. She served on the Rehab staff at York Hospital for twenty-five years. She specialized in the treatment of patients with neck and low back disorders. She also taught continuing education courses to physical therapists across the country. She has presented Back Safety lectures to various organizations throughout the seacoast area. Visitors are welcome at our meetings, so spread the word to your gardening friends. Remember – our new meeting site is the Stratham Fire Department Mogera Room, 4 Winnicut Rd. Doors open at 9 a.m., 9:30 social time, 10 a.m. meeting.
Lee C. has an important question for members. She would like to know who brought the cantaloupe plant to the spring meeting at the Stratham pavilion. She said the fruit was delicious and wants to buy more for next season. If it was your plant, please let Lee know!
Happy Fall!