Art Scarpa made a return visit to EAGC, this time to show members how to assemble a terrarium. With plants, containers & materials supplied by Art, members quickly transformed empty jars into beautiful mini-gardens. As always, Art was an excellent source of plant information and humor. (See copies of Art's terrarium preparation and care instructions here.)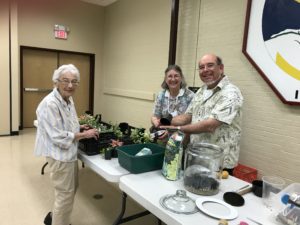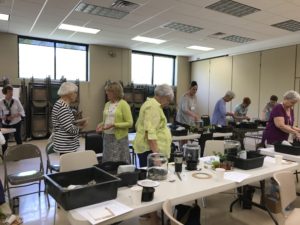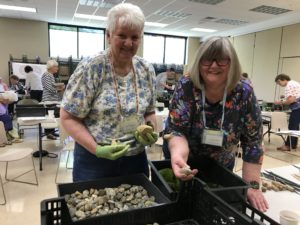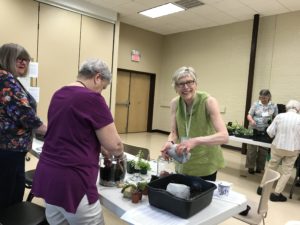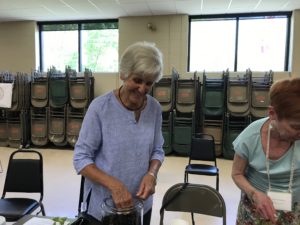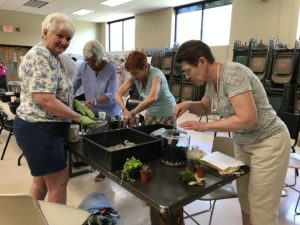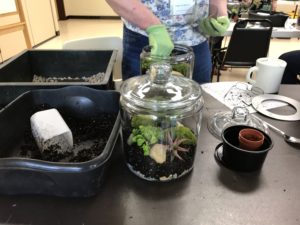 *  *  *
As always, refreshments were lovely to look at as well as delicious!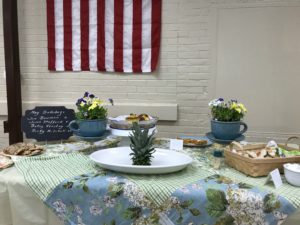 *  *  *
At the same meeting, Environment & Conservation provided a helpful display on controlling pests in the garden, without resorting to harmful chemicals.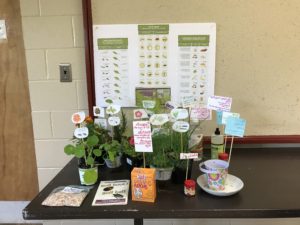 E&C also announced plans for their annual summer party. This year's theme: Appleicious Afternoon. Sign-up for the August 17 party has started.  For party details, click on Appleicious Afternoon Information. A sign-up sheet will be available at the June 14 luncheon or contact Linda V or Edie to sign up.
 *  *  *
On May 25, Nance J and her Beautification crew went to work cleaning up the bandstand area and installing the new plantings. Their hard work and the beautiful result are evident in these pictures. Judging by the big smiles, it appears that everyone enjoyed the morning.