2017 Civic Beautification Residential Award Recipient
Sherm and Cathy Pridham, 23 High Street, Stratham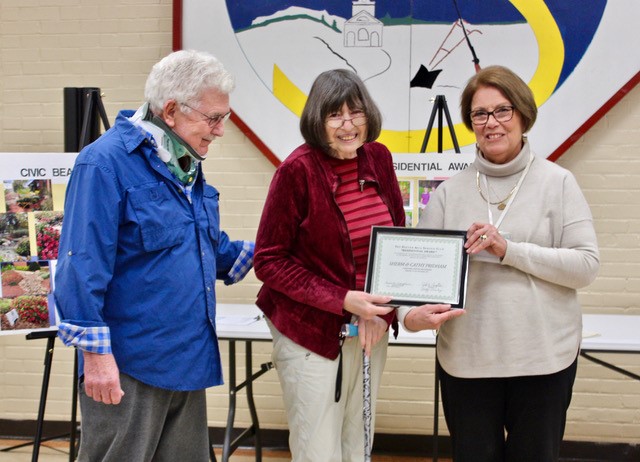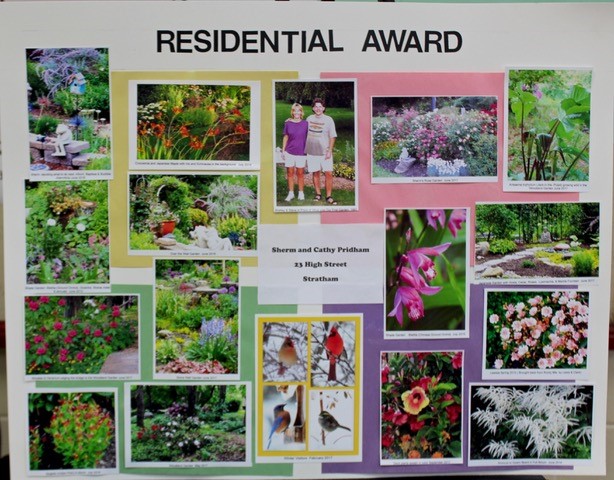 In 1987, had you driven past 23 High St. in Stratham you would not have seen even a paved driveway. There were no garden beds, only two acres of lawn that needed, at the very least, mowing. But the new owners, Cathy and Sherm Pridham, saw the potential and started to work. Fast forward thirty years, which included lots of hard work and lots of research (after all these two individuals are librarians), and now those two acres demonstrate a passion for gardening which is captured in this quote that Sherm and Cathy often include in a brochure they designed to describe their garden:
"Man despite his artistic pretensions, his sophistication, and his many accomplishments, owes his existence to a six inch layer of topsoil and the fact that it rains."
Wait till you see what they have done with that six inch layer of soil! Eighteen gardens flourish, many with unique and most often native plants, all labeled with the Latin names. There are beautiful fountains and garden art, all designed, installed, and maintained by the owners. The attention to detail in this garden is amazing and best demonstrated by a conversation I had with Sherm when visiting the garden this summer. I teased him about the beautiful stones used in one of the beds, hinting that perhaps they had come from our local seashore. Absolutely NOT! I was directed to look at them more closely and did I notice their purple hue? These stones had been chosen specifically to compliment the nearby flowers and can only be found in one nursery in NH.
At the insistence of Cathy and Sherm, I encourage all of you to visit their garden. Drop by any time, park in that paved driveway, and explore this property. It is with great pleasure that, on behalf of EAGC, I present the 2017 Residential Beautification Award to Cathy and Sherm Pridham.
Mary Jo Chadwick
Nov. 16, 2017
2017 Civic Beautification Commercial Award Recipient
St. Vincent de Paul Community Assistance Center, Lincoln St., Exeter
Sue Bowman presents the award to Leah Grant, Molly Zirillo, and Cleo Castonguay of St. Vincent de Paul.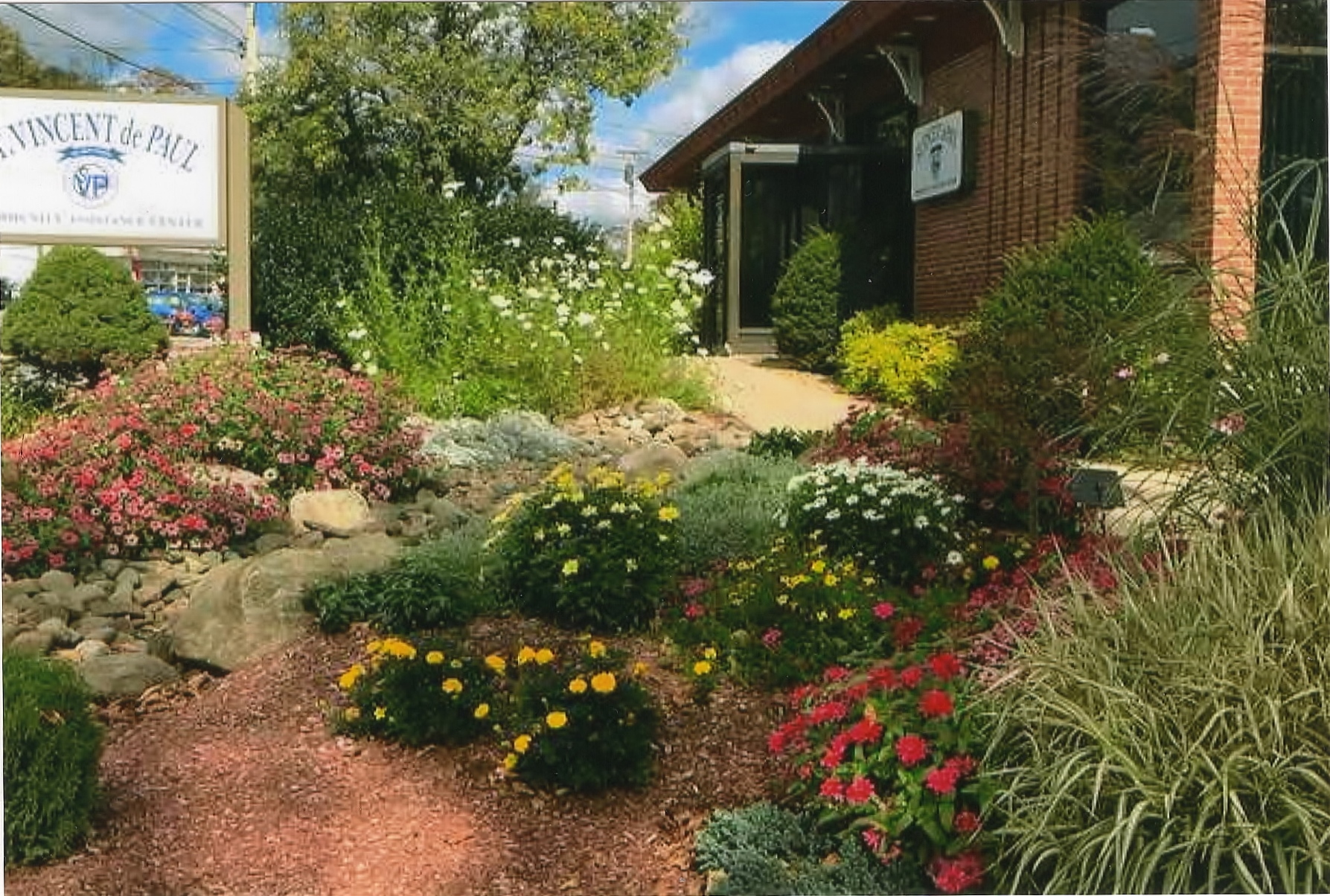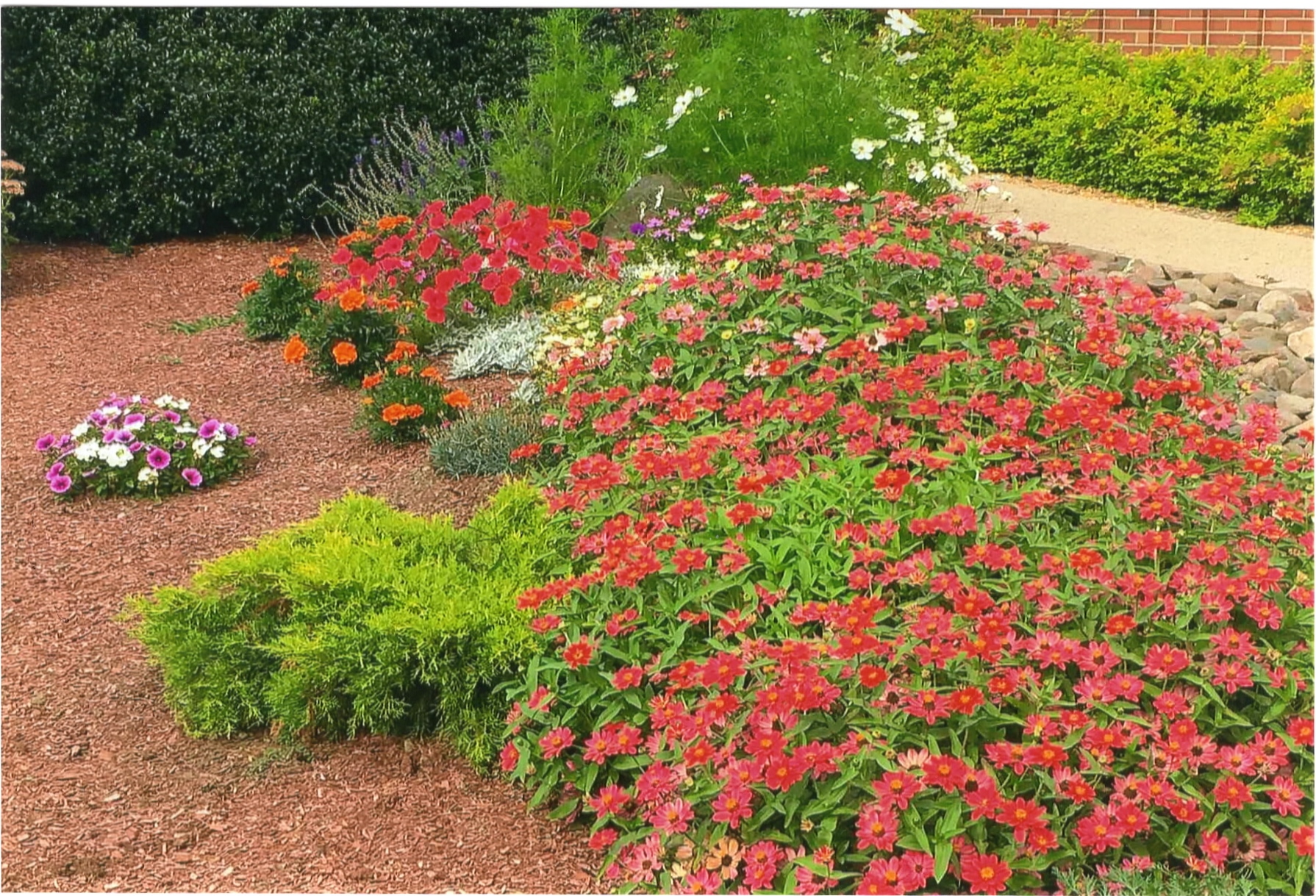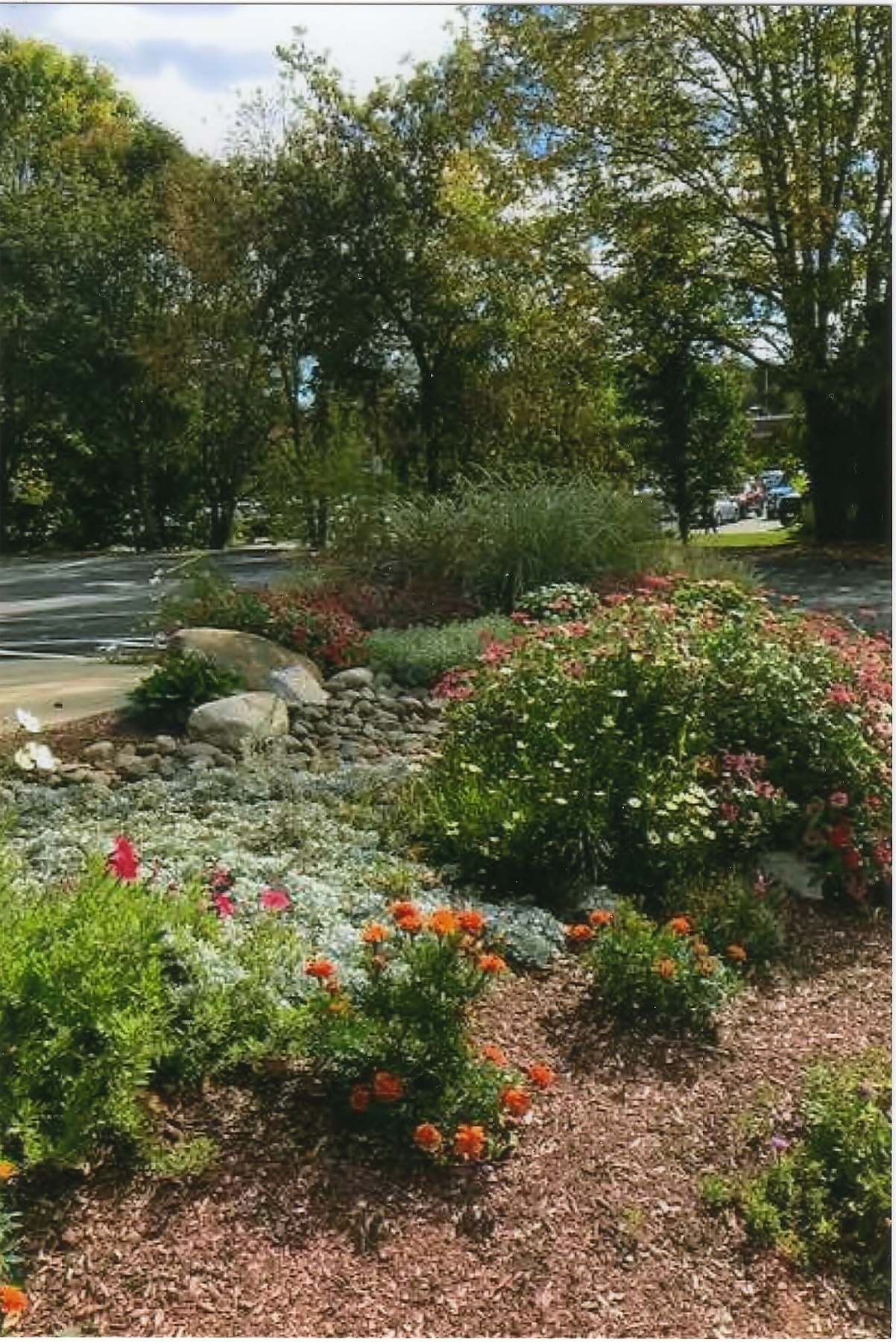 Color, color, color!
We are honored to present the Civic Beautification Award to St. Vincent de Paul Community Assistance Center on Lincoln St. in Exeter. St. Vincent touches the lives of about 800 local families facing difficulties. Executive Director Molly Zirillo hopes that by providing a colorful and cheerful entrance, the Center is very welcoming to those seeking help; a place of which they can be proud.
The Awards Committee has been observing the gardens over the past two years and decided overwhelmingly that this was St. Vincent's year. Leah Grant, the designer, and her dedicated volunteers, including Joan Bater, have brought Leah's ideas to fruition. There is a wealth of color, height and variety – including cosmos, phlox, daisies, pink petunias, marigolds, black-eyed Susans, and grasses.
It is evident that Leah loves bright colors! Red, orange, and pink zinnias form a mass facing the parking lot. Monarch butterflies and bees abound.
In an area where grass didn't grow, there's a river of stones, banked so it gives the impression that it's actually flowing. Nearby is a dwarf red maple dedicated to longtime volunteer Herb Salls. On the left side of the entrance is a perennial shrub memorial garden dedicated to volunteers. (Presently there are about 175 volunteers!)
Next spring, summer, and fall when you are dropping something off for St. Vincent's pantry, drive around the loop and enjoy the gardens! See what the butterflies have discovered.
Sue Bowman
Nov. 16, 2017
2017 Civic Beautification Honorary Award Recipient
This special award was presented to David Donsker on behalf of his wife Terri, who was a longtime member of EAGC and an extraordinarily talented gardener.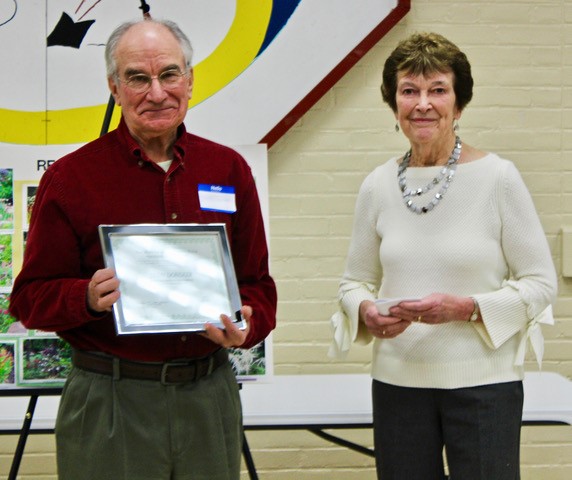 Last spring we lost a beloved member of our Garden Club. Terri Donsker had been a member since 1979.
Terri was a very active member of the club. She was chair of the Horticulture Committee and provided us with many interesting and informative Hort Moments –even including Latin names, very specific details about the plant, where it grew and why. Her ideas were often unique and interesting. For example, at one of our open house meetings Terri made "preserved lemons"  – aka "sunshine in a bottle".  This suited Terri so well. She had a sun shiny personality.
Terri was very gracious to open her home for many Board meetings. May was the month of choice because Terry's gardens were spectacular at that time. We always wandered around her very well-manicured yard and admired her flowers, bushes, and trees. Often there were times we had to be called in to start the meeting.
We'll always remember Terry and the wonderful smile she had for everyone. Today, her husband, David is here to accept this award in her honor.
Anne Campbell
Nov. 16, 2017