Patti Elwell
I started making this sauce years ago when my gardening skills had improved and I was having an abundance of tomatoes every year! This simple roasted sauce quickly became a family favorite. It tastes great and freezes very well for a taste of summer in the middle of winter!
Roasted Tomato Sauce
15 cloves of garlic, peeled
8-10 lbs any variety of tomatoes (except cherries), meaty are best, all cored (stem section out), quartered
3-4 lbs medium onions, skin removed and quartered
1 lb chopped carrots (optional, but they add sweetness to allow for elimination or reduction of added sugar)
Other optional chopped vegetables to your taste: sweet pepper, mushrooms
½ cup dried Italian seasoning herbs or 1 cup fresh, chopped herbs (rosemary, basil, oregano, thyme)
1/4 cup olive oil
½ – 1 cup red wine (optional)
Salt and pepper
1/4 cup sugar (optional, but helps cut acidity if you don't add carrots)
Preheat oven to 450 degrees. Lightly grease a large roasting pan, add and gently stir all the ingredients except for salt, pepper and sugar, and place in oven. Roast for approximately 1 ½ hours, stirring every half hour. Vegetables will char. After cooking down the sauce, leave it chunky or use a stick blender (preferred) right in the pan to puree all ingredients. Taste the sauce and add up to ¼ cup of sugar, and salt and pepper to your taste. Freezes for up to 8 months. Makes approx. 9-10 cups.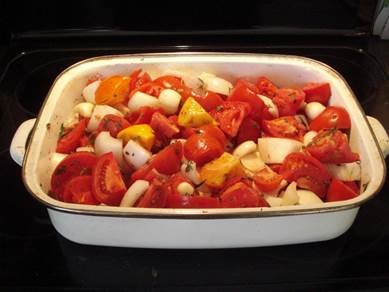 Leave a comment