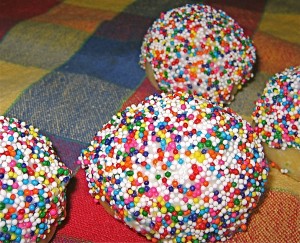 My family members fight over these old world cookies.
from Maxine Forward
Makes 35
The Cookie:
1⁄2 cup Vegetable Oil
1⁄2 cup Sugar
3 Eggs
2 tbs. Milk
1 tbs. Anise Extract
2 1⁄2 cups Flour
1 tbs. Baking Powder
Anise Icing
1 large tub (6 oz.) Colored Nonpareils
Mix oil, sugar, eggs, milk and anise extract together. Mix in flour and baking powder, making a somewhat sticky dough.


Using floured hands, roll pieces of dough into 1 1⁄4 inch balls. Bake cookies on an ungreased cookie sheet in a 325° oven for 12 to 15 minutes or until the bottoms are barely browned. Watch them carefully because the tops have an undesirable tendency to split if over-cooked. Cool completely on a wire rack. If the tops split somewhat, don't worry – the icing will hide it.

Frost a cookie with Anise Icing to covering as much of the top as possible. Roll cookie in nonpareils, completely covering the icing. (This recipe uses a lot of nonpareils!) Set each decorated cookie on a wire rack until the icing is dry.
Anise Icing:
2 cups Confectioners' Sugar
¼ cup Milk
1 to 1½ tbs. Anise Extract
Mix confectioners' sugar and milk together to make a thickish icing. You don't want it to be runny at all. Adjust the sugar and milk, if necessary.


Stir in 1 tbs. anise extract and taste. Extracts often vary by brand and too strong a flavor will spoil the icing. If you'd like a stronger flavor add more. Keep in mind that most of the anise flavor in this cookie comes from the icing.
1 Comment