Connie shows you how!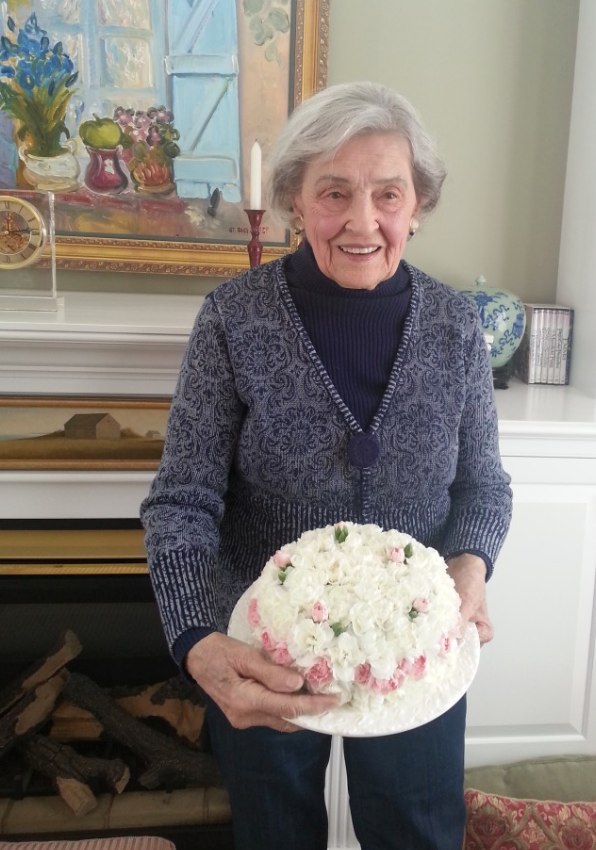 This beautiful flower cake is easy to make and would look fantastic on you Easter table. The white carnations look just like frosting!
Make sure you have enough flowers – this project uses a lot. When you select your flowers, you should select ones that last a long time. Mini carnations are an excellent choice. The flowers should be fully opened. Be sure to pick a contrasting color for trim as well. As you can see, Connie used pink.
Make the cake 3 to 4 days before you need it. It will last a month or so as long as you water it once or twice each day. Just gently pour water over the cake.
What you need to make Connie's Cake:
Wet Oasis – 5″ disk
Wooden skewers or toothpicks
4 to 5 bunches of fresh flowers
How to do it:
The proper size oasis disk can be hard to find. If you can't get one, use a knife to cut two pieces of oasis side by side into a 5″ x 3″ high circle. Poke wooden skewers or toothpicks through the pieces to hold them together.
Wet the oasis and place it on a attractive plate or a shallow bowl.
Cut your flower stems with scissors. Each stem should be approximately two to three inches long.
Start at the base of the cake and poke the stems of your flowers into the oasis, lining them up side by side all along the lower side edge. When that layer is complete, continue to layer more rows of flowers on top until you have covered all of the surface of the floral foam.
With the flowers added, the cake will be 8 to 9 inches across.
For you more adventurous designers out there, here are some colorful cakes for inspiration.
Flower Cake Gallery