Maybe this post should be titled "March Non- Happenings" due to the cancellations we've announced in the past month. But just because we're not getting together to discuss gardening doesn't mean gardening isn't happening. Now is the ideal time to share your thoughts and images with your garden club friends. Email both to your friendly web manager (eagcnh@gmail.com), who will be thrilled to pass them on to your gardening friends.
You'll notice a large blank space in this post, just below the next article. Please ignore it and proceed down the page. Your clueless web manager can't figure out how to delete it.
---
One Promise Tree activity took place before the big lock-down. Rosemary S. gave this report:
Since we couldn't yet dig in our gardens, we met to dig into our family roots! We met on Wednesday March 5th at the Exeter Family History Center on Hampton Falls Rd. Helpers were ready to assist and members were ready to research.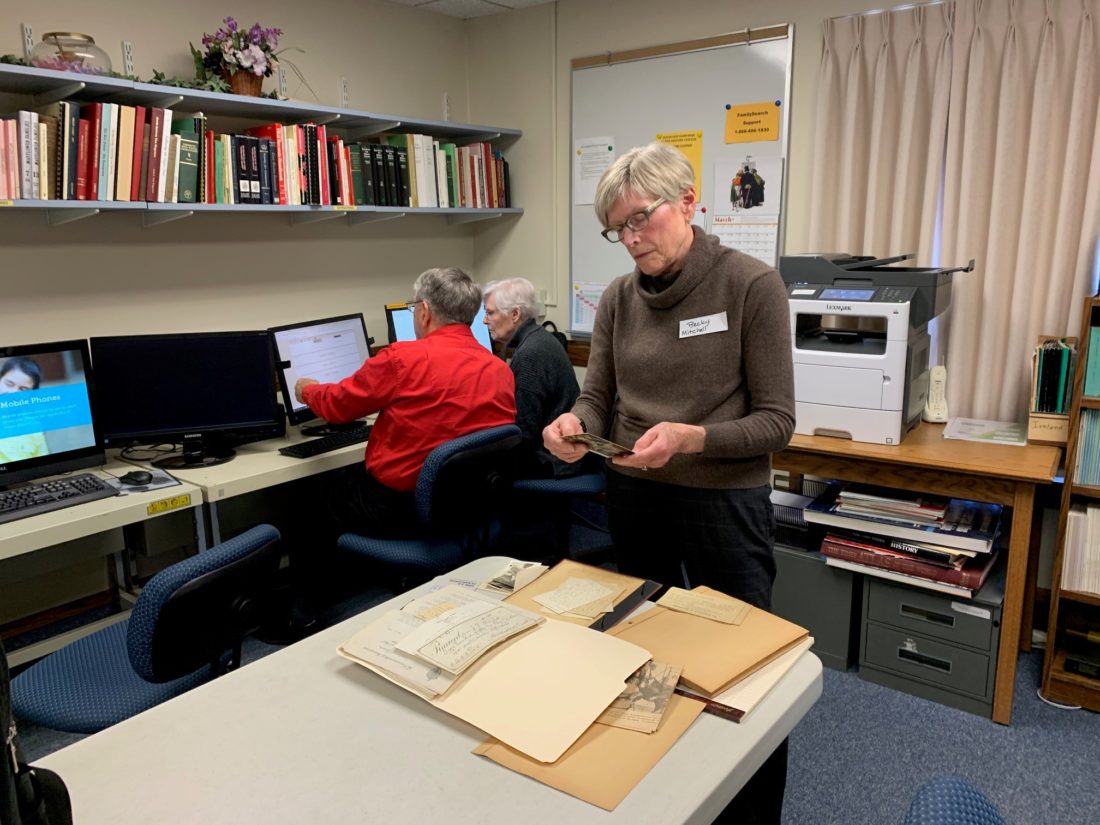 Becky copied pages from old family albums to a flash drive.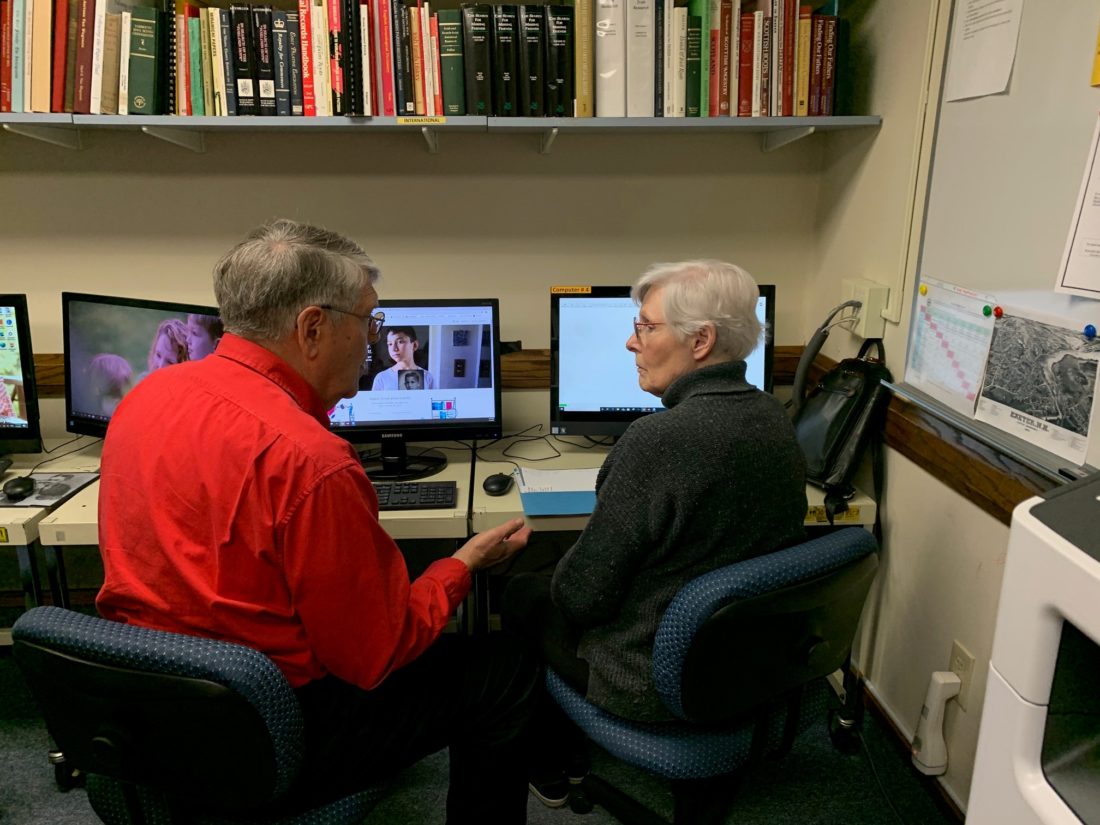 Meredith started her family tree.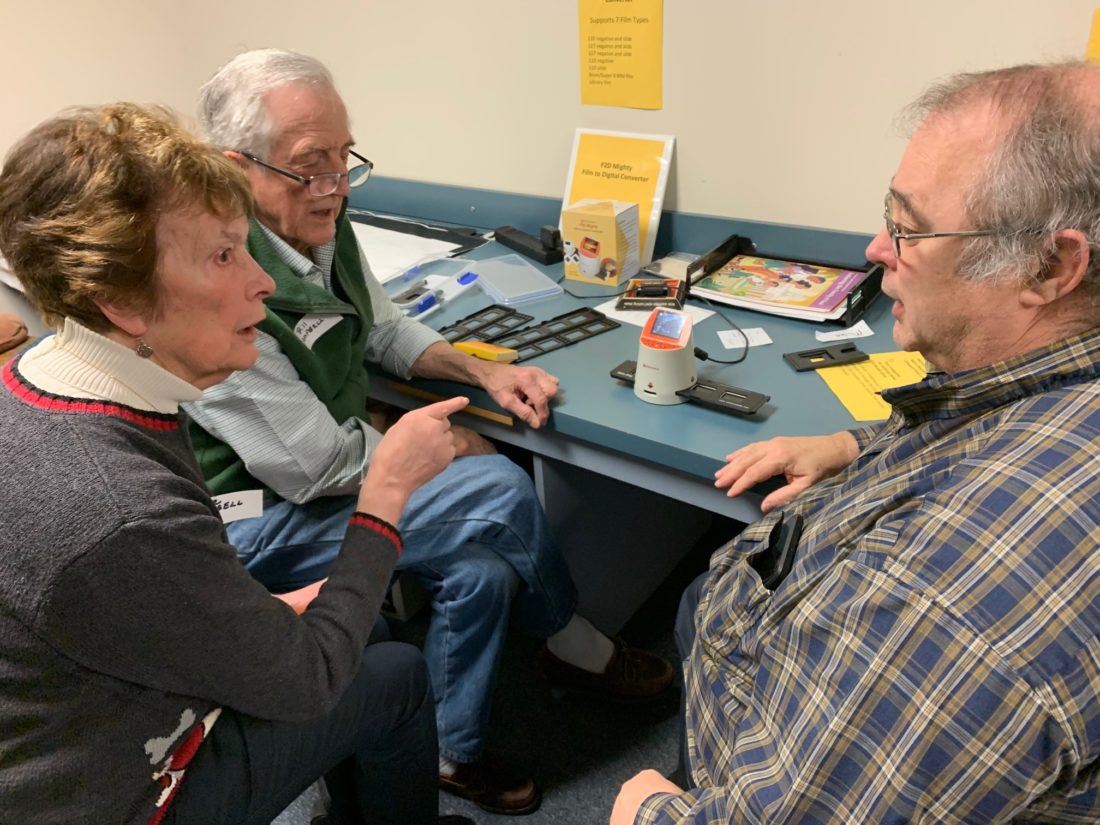 Mary Ellen and Ann C and their husbands digitized slides.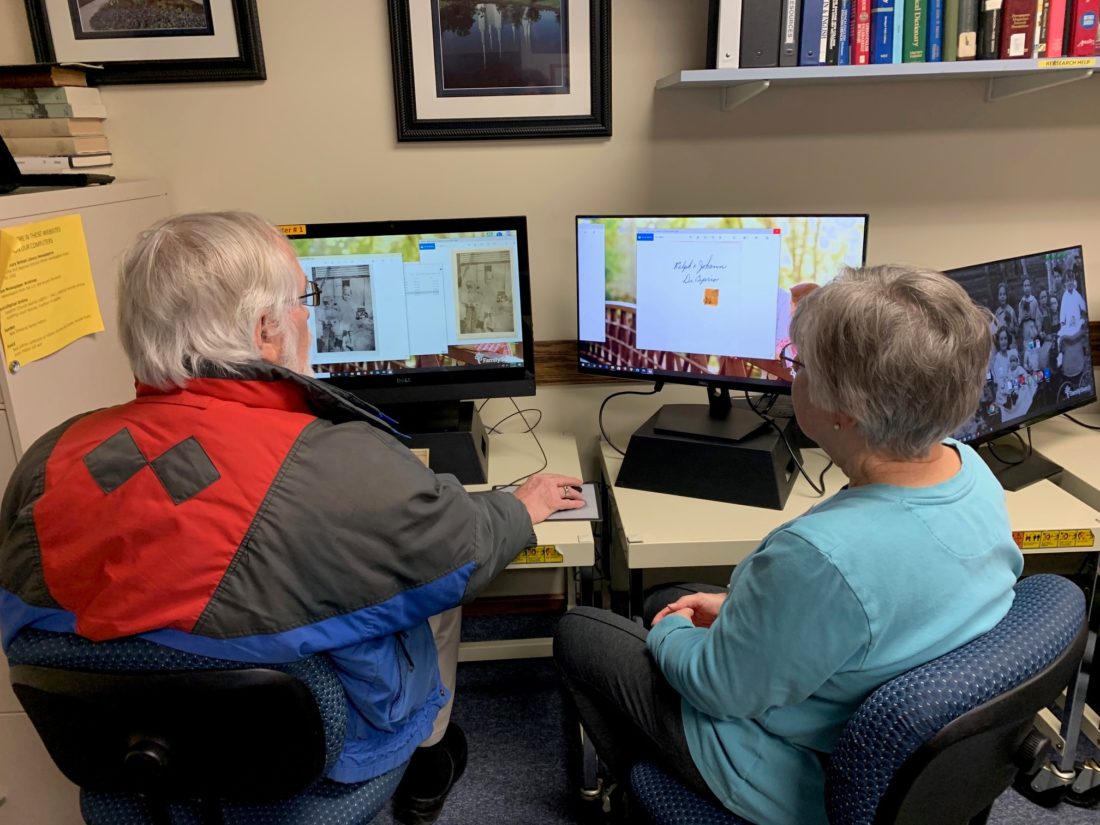 Johann restored an old photo.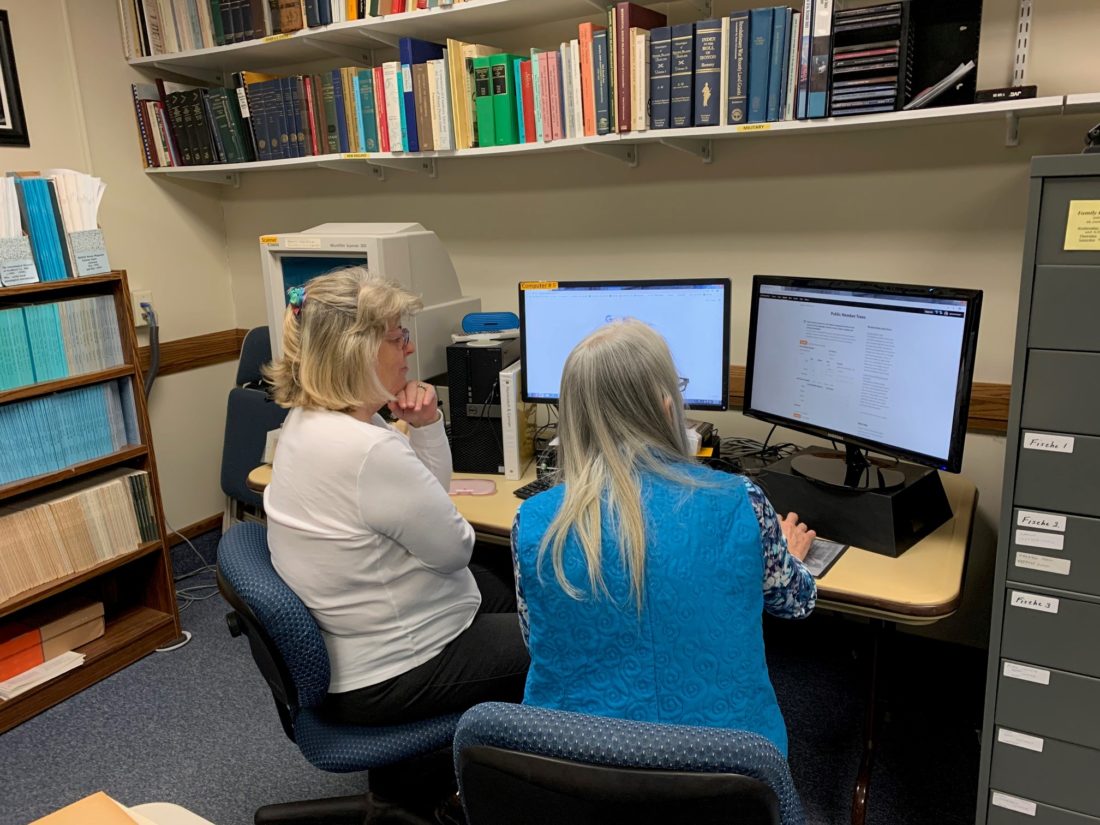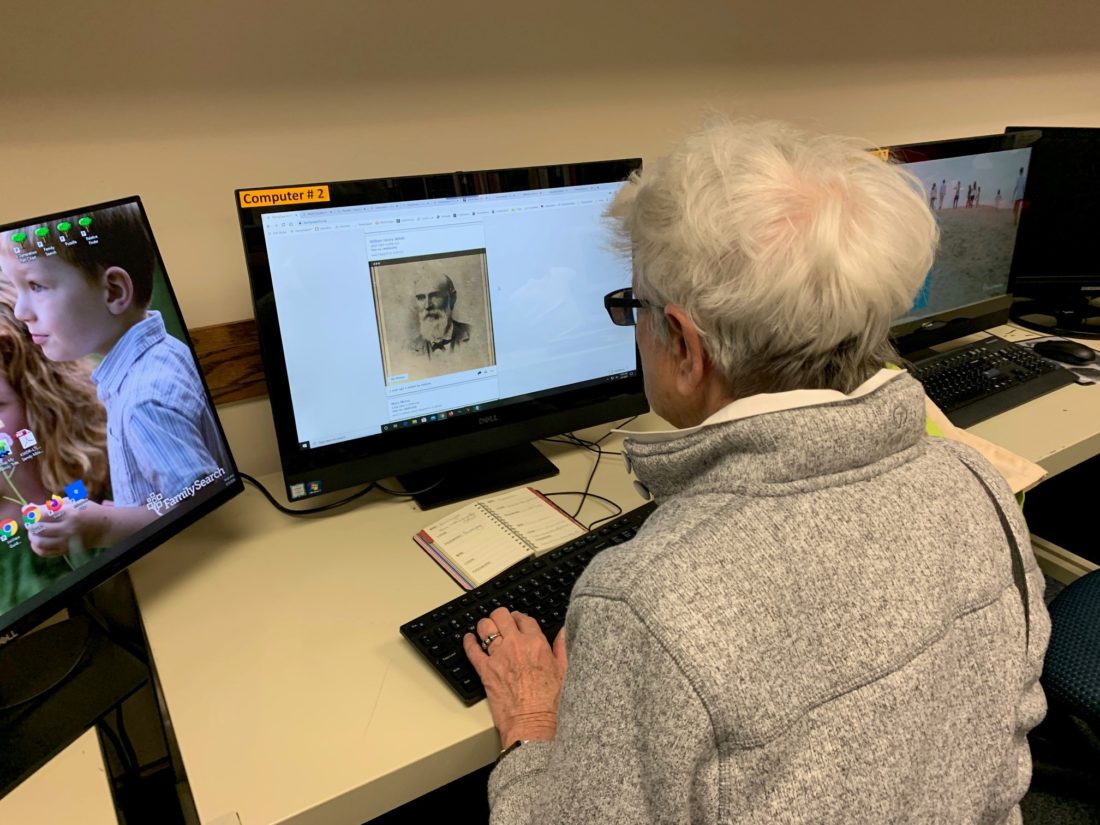 Donna R and Ann H searched records and gathered information about their ancestors.
We all had fun and everyone left with something special they learned about their family or a keepsake to give to their family.
---
Lee's garden is already abloom. She shared this photo of her irises. "On the far left is a dark bronze, in middle, white, and on the right a yellow and purple variety. There may also be a yellow one in the group as well."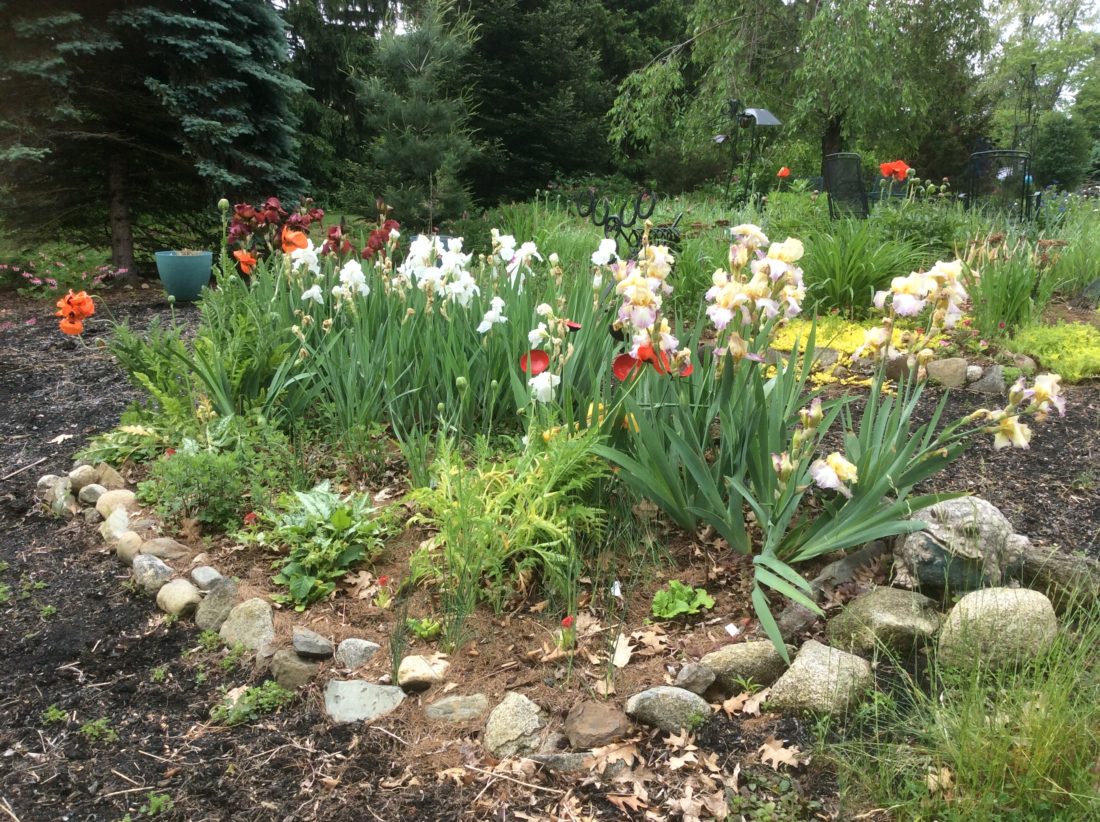 And this is what Lee had prepared for our regretfully postponed Indoor Yard Sale…
---
Looking for some reading (or listening) material now that you have lots of at-home time? Here are a few suggestions, mostly garden-related, that you may find informative and entertaining.
Emma Erler, UNH Extension Education Center Program Coordinator (as seen on WMUR's Grow it Green) does live discussions about gardening in the Granite State. Click on a link to see her session on:
Nuisance Wildlife – scheduled for March 9 at 3 pm
Jana Millbocker, one of our recent speakers, has an article on her blog titled "In Defense of Weeds." Click here to find out why we should be kind to dandelions.
Jumping worms are on the move in New Hampshire and promise to become a serious problem for our forests. UNH has some new information on potting up plants without spreading the wiggly little buggers. Check it out here.
Now that we're eating at home more, we have more food scraps. Here's an activity, designed for kids but adult-friendly, that provides an opportunity to "grow your own". Read here for some indoor veggie gardening ideas.
As you know, our April 16th meeting, which was supposed to feature a Design Surprise by our own members, has been cancelled. At this date, the May 21st meeting is still planned but that could change at any time. You'll be updated by email of upcoming changes.
---
Let's all be grateful that this quarantine is taking place during New Hampshire's glorious spring season. Enjoy all Mother Nature's treats and stay safe!