There have been so many club events this month — and members have definitely been taking advantage of the long-awaited opportunity to gather and enjoy each other's company! Although holiday events are still ongoing, here's a photo recap of some of the fun that's already taken place.
The Civic Beautification Committee kicked off the season by meeting to decorate the Exeter Historical Society building. If you've ever helped with this project, you know how rewarding it is to work with such a talented and enjoyable group of women. The end result is always impressive (and greatly appreciated by the Historical Society.)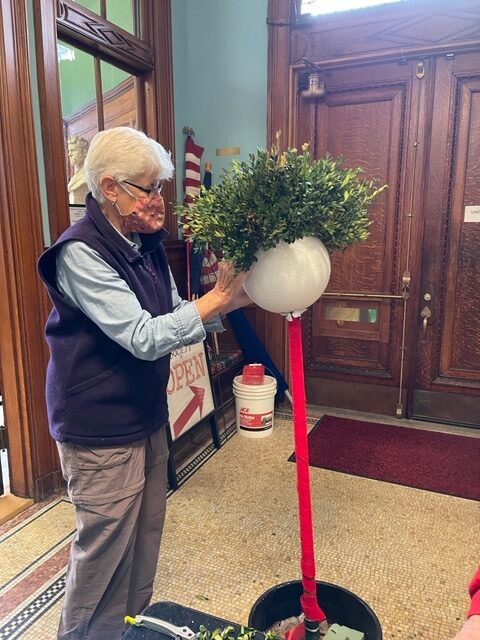 Our November general meeting was another success. Hospitality provided a tempting table of snacks, our Promise Tree was sprouting some interesting new leaves, and Ann H. of the Horticulture Committee, presented a fact-filled Hort Moment that educated us all about Joe Pye weed. All of this was followed by an enlightening talk by our speaker, Jillian Arquette-Gallagher who owns Fruition Flowers, where she grows flowers to supply local vendors. We all learned a lot about the environmental benefits of buying flowers grown locally.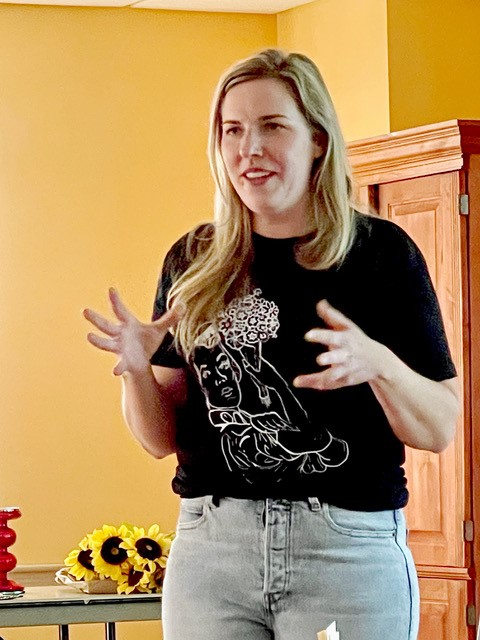 The Design & Hort Committee hosted a pinecone wreath workshop this month – resulting in some wonderful wreaths, just in time for the holidays. Thanks to Ann H. for the photos.
Members were in a festive mood at the annual Holiday Luncheon at the beautifully decorated Wentworth Country Club. Delicious food, wonderful company, a holiday poem from the Hospitality Committee (apologies to Clement Moore), and a gift exchange made the event special.
On the calendar for January: more photos of Holiday fun and our January 20th UNH Extension Master Gardener presentation.
Notice: The club is in need of an official photographer – someone who plans to attend most, or many, club events and would be willing to document the activity with photos. Ann H. has been providing us with exceptional photos, but she already wears many hats for the club and should not have to feel responsible for photos. No great skill is required for this position – if you look at the three luncheon photos above, you can see that the need is dire and anything would be an improvement.
Wishing All Happy and Healthy Holidays!